How Much Does It Cost For Storage In Singapore?
The ever-shrinking houses in Singapore means that self storage solutions are becoming increasingly important. Storage units can help store everything from large pieces of inherited furniture or important documents that must be kept in a safe place. Here are some factors to consider before picking out a unit. We have also put together a comprehensive guide to storage prices in Singapore to help you on your journey.

Determine your storage needs
The first thing to consider is your present and future needs. Determining what you want to store in it will dictate the size of the storage unit. Contacting the storage company early will give you enough time to find a place that fits all your requirements. Depending on what you are storing, you should also ask if there are any pillars in the unit, height limitations, and size of the doors which might affect your ability to store bulky items.
Storage Duration
Knowing how long you will need the storage — if it is short term, just to aid you in house moving, or long term. This would inform your choice for ventilation, size and access capabilities. You might want to spring for an air-conditioned, bigger unit if you plan on long-term storage.
Ventilation
Air-conditioning is important for your own comfort — if you are going to be retrieving items often, the heat and humidity can become very uncomfortable — as well as ensuring your items do not start to grow mold. Singapore's humidity means that items may become mouldy and risk becoming home to bugs. Paintings and books are highly susceptible to wood rot, which may result in yellowed, brittle pages that may even stick together. Natural fabrics like linen and silk are especially prone to breaking down over time. Air conditioning also slows down rust and corrosion, which is vital for electronics and instruments. Dampness will result in fungal growth, but air-conditioning will ensure that your precious items will remain dry, clean, and odourless.

Customer service
Aftercare is also important just in case you run into any issue, so you may need a company that has an after-hour helpline. You might also want to check if there is an in-house shop that sells shelving and storing materials just in case you need such items whilst you are unpacking. While Singapore is one of the safest countries worldwide, security is still vital to ensure your items are always safe. You could also have a tour of the facility and find out if the unit has any unique selling points. 
Location
Finally, if you are accessing your storage unit regularly you might want to find a facility nearby. The kind of transportation you have should also be considered, as you would want to make sure you can get there without much hassle.
How much do self storage units cost?
Here at Storefriendly, we have a variety of storage sizes to fit your needs.
Our smallest option would be a locker, starting at W4ft x D4ft x H4ft (W1.2m x D1.2m x H1.2m), with a base storage price of $98 a month. Even at the smallest size, it can fit 6 to 8 Storefriendly Boxes, which can amount to winter clothes, some books and old CDs. These small storage lockers are also apt for storing any loose, bulky objects you might have lying around your house. From scientific equipment, microscopes, measuring gear, power tools, foldable chairs and builders' tools, they can hold a surprising amount of things..This size is also perfect for National Servicemen to keep their field packs or duffel bags.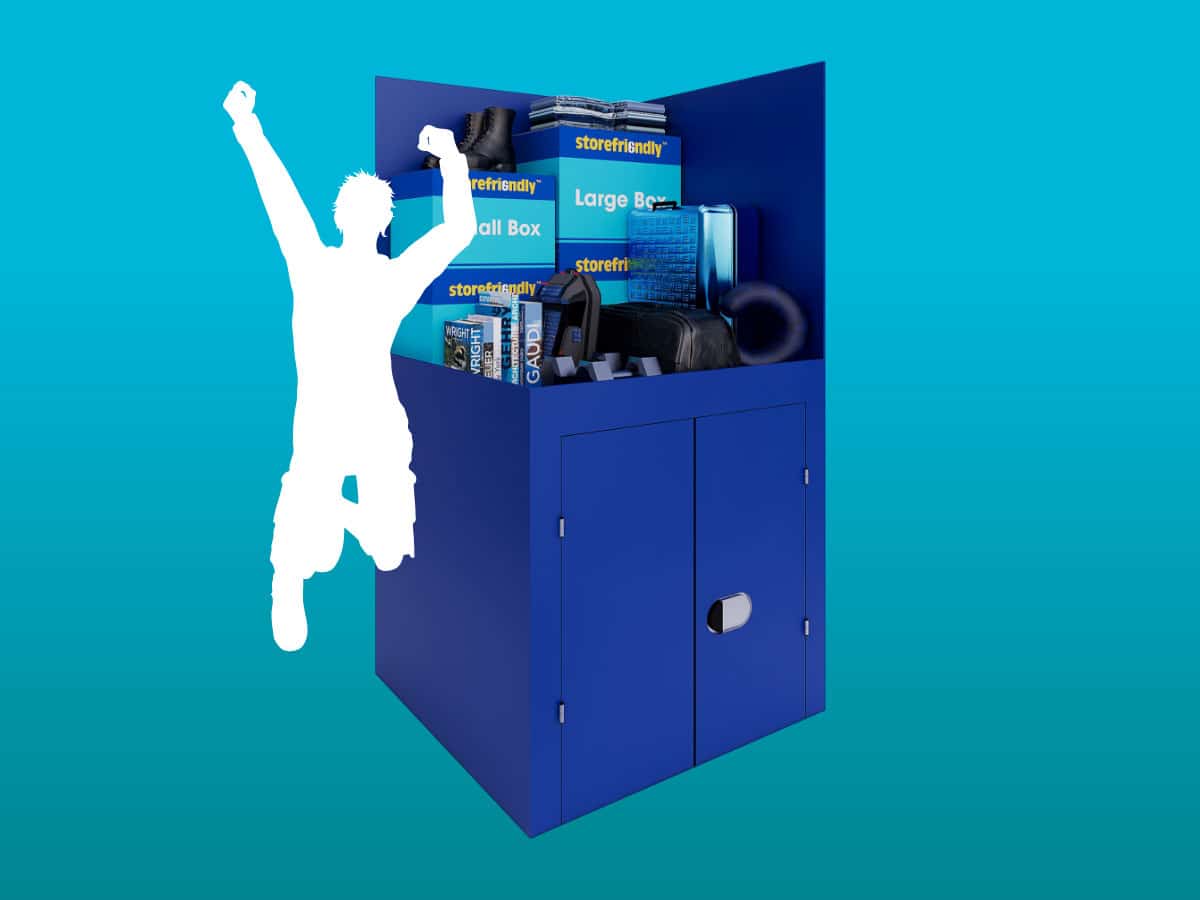 For our 16sqft lockers, we have two options. We have a traditional storage unit option with estimated dimensions of W4ft x D4ft x H8ft (W1.2m x D1.2m x H2.4m). This mid-sized self storage option is good for items like sports equipment and old tech items. Thesefit about 12 to 16 Storefriendly Singapore boxes. We also have a robotic storage option which provides a contactless solution for all your storage needs. The robots will help to transport your personal cabinets into safe, no-man zone areas . With the help of your smartphone at the hassle-free scan arcade, you can access your storage 24/7. The traditional storage unit pricing starts at $138 per month while the robotic one begins at $118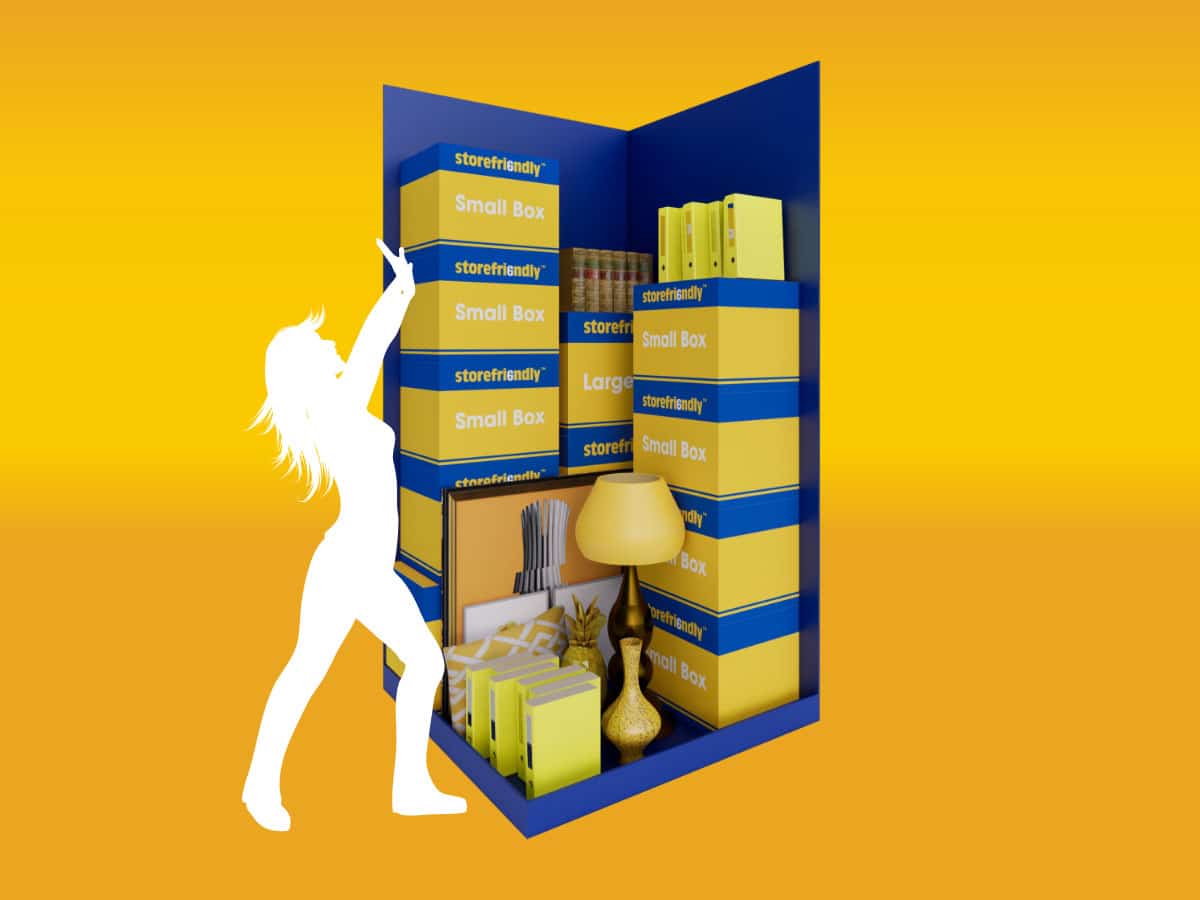 At this storage option, you will be able to start storing bigger items that have outgrown your house. With estimated dimensions of about W4ft x D6ft x H8ft (W1.2m x D1.8m x H2.4m), smaller pieces of decor (like that Christmas tree) can be placed here. This is also the perfect size for those who want to store collectibles or hobby-related items. Old books, magazines and small pieces of furniture can go in here too. The 24/7 air-conditioning here ensures that your precious collection is always well-protected. A storage locker like this will also give you more space to display your collectibles at home. 
This option starts at $198 per month.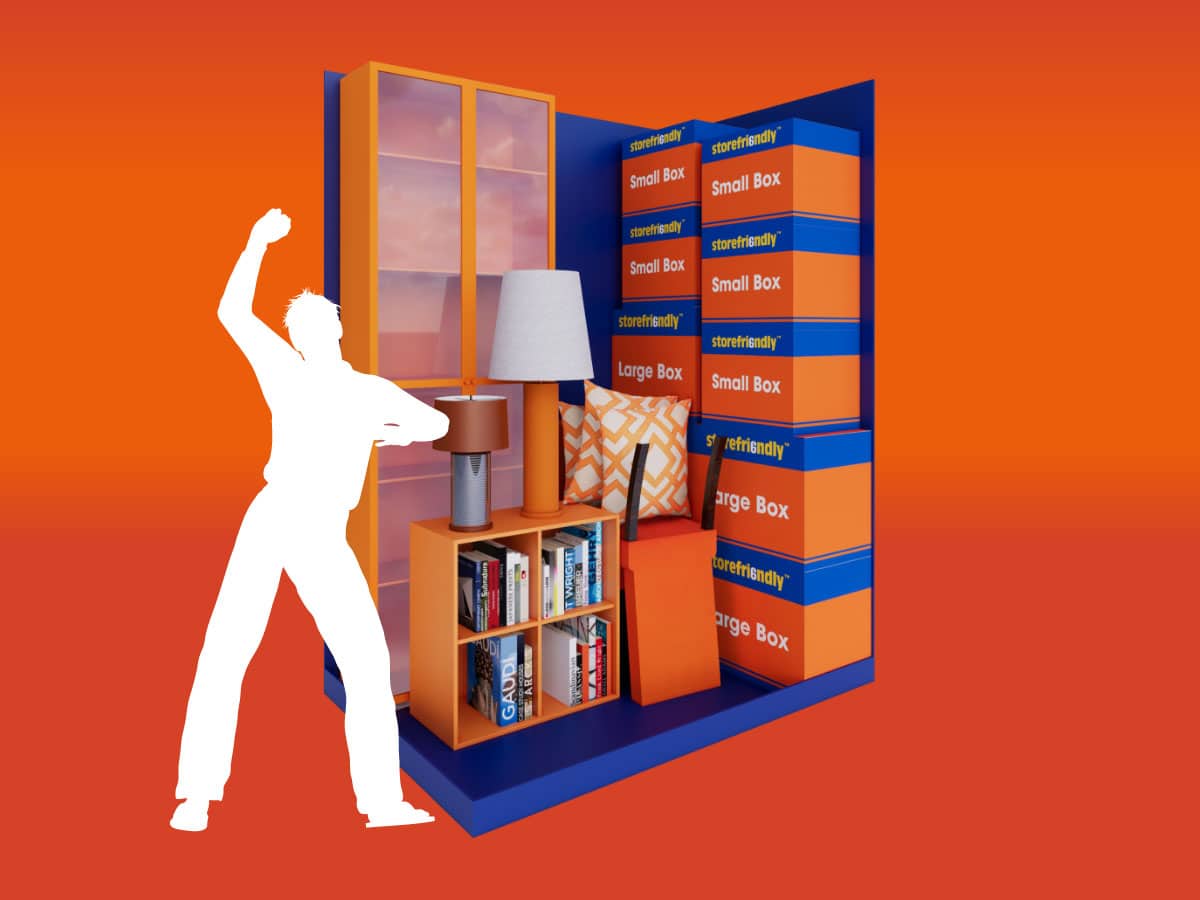 This is a medium sized storage option catering to small families or those who are carrying out small renovations in their house. At W6ft x D8ft x H8ft (W1.8m x D2.4m x H2.4m), this is the smallest storage unit size that can fit a queen size mattress. Its size is comparable to a HDB bomb shelter, so you can fit in medium-sized furniture like a work desk or a chest of drawers. You can also place more furniture in here (during your home renovations) by stacking furniture on top of each other. Base 6×8 storage unit prices start at $328 per month.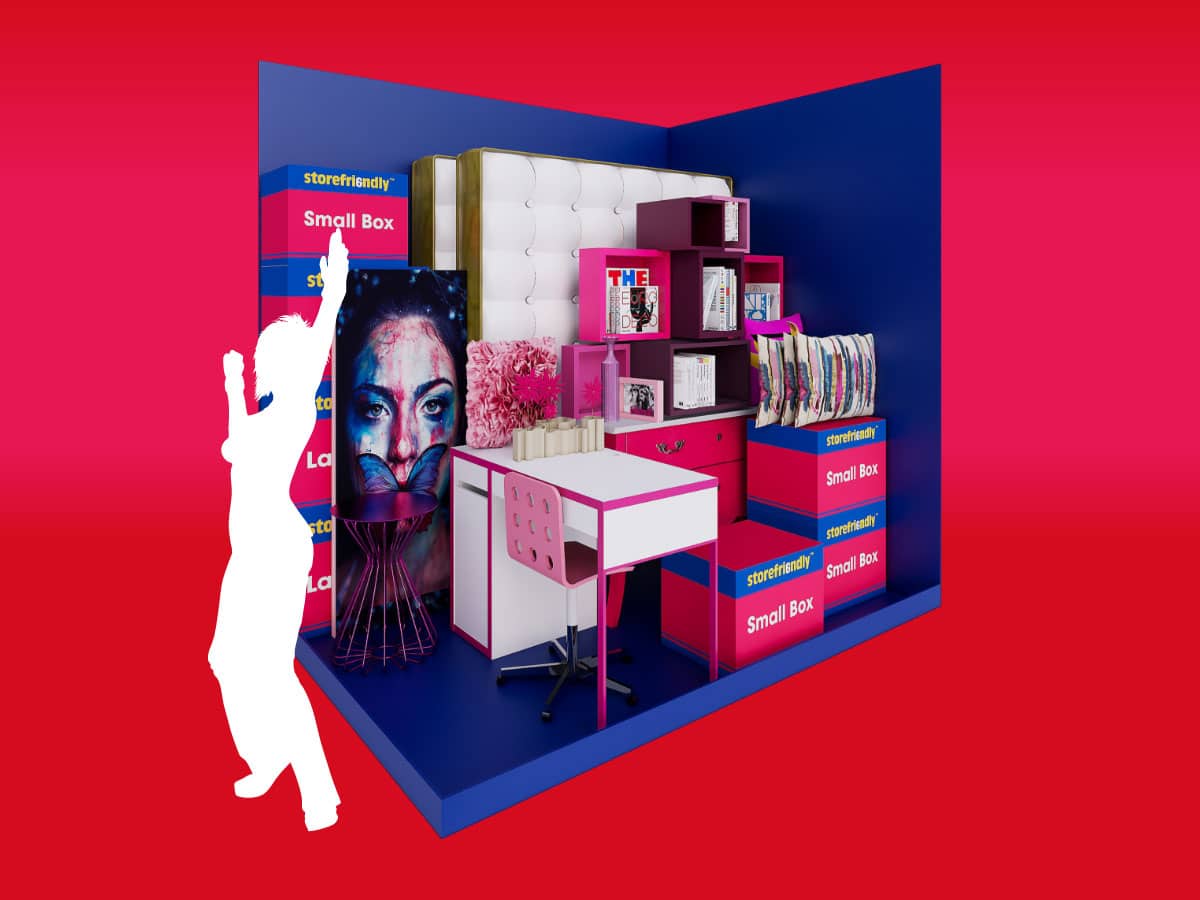 Finally, the largest storage size is home to endless possibilities. At W10ft x D10ft x H8ft (W3m x D3m x H2.4m), it can be used for complete home renovations or for storing business inventory. Even if you decide to stay elsewhere temporarily, you might not want the dirt and dust to get to your furniture. This size can fit most dining sets, sofas, coffee tables and furnishings like lamps, paintings and shelving units. If you run a small business, this is also a good size for you as it can hold a significant amount of products. For big businesses, this is a cheaper option to getting more office space, and can be used to store old documents and spare electronics. The base price for this starts at $578 a month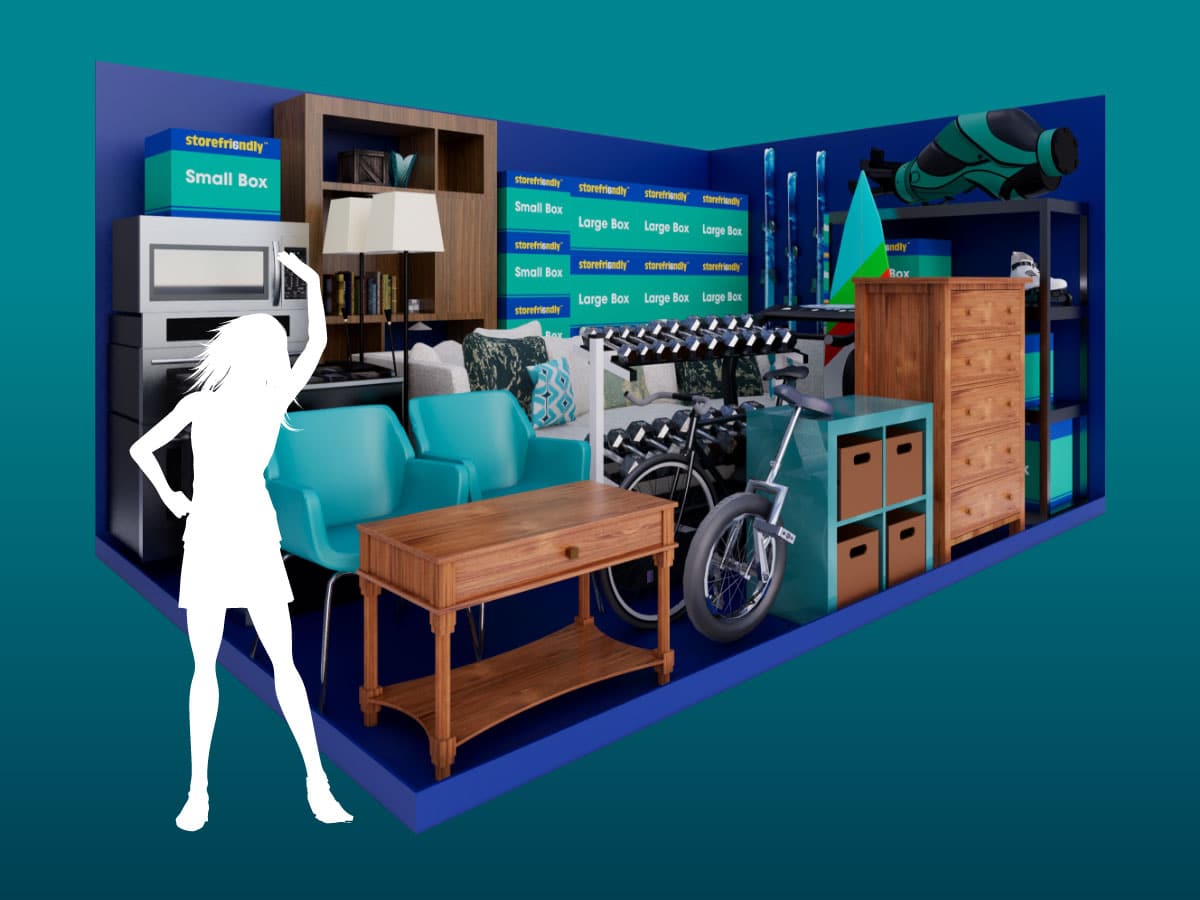 Singapore Storage Price Comparisons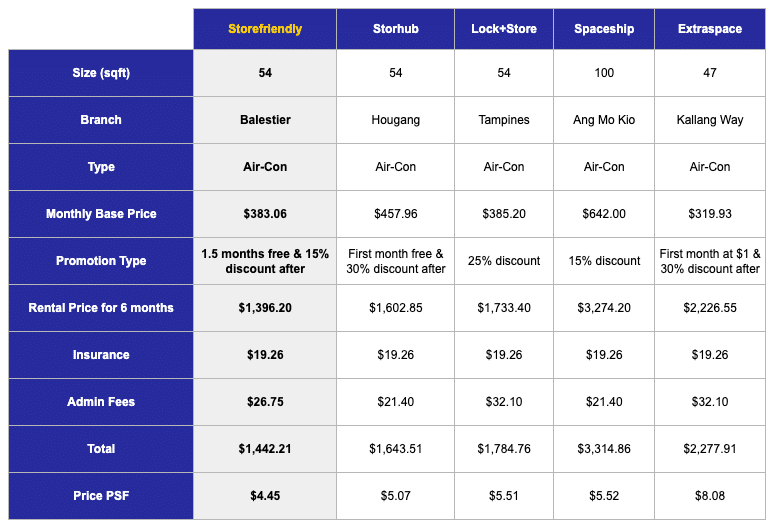 Additional Discounts at Storefriendly
You can also enjoy some prepayment discounts depending on your length of rental. A 3-month prepayment would give you an extra month free, one and a half months for a 6-month prepayment and 2 months free for a year. We also have ongoing promotions that you can check out here. Do note that these promotions and offers are subjected to storage unit availability and demands. For updated pricing and quotes, you can submit an quotation request below:
For long-term renters, make sure you check how much are renewal rates after your prepayment or first contract period. Make sure it's an amount that you can afford in the long run. However, if you are unsure of how long you need the unit, here at Storefriendly we do not require the usual lock-in contract.
Storage Insurance 
While we do require you to have storage insurance in order to rent a unit with us, it comes at just $3 a month. It is to safeguard against unforeseeable events and accidents and make sure your items are well protected.
Free Delivery with Storefriendly
We also know how painful moving can be, so we offer a free move-in for all our customers. Our movers will carry and bring your items over to our facility for your move. As usual, terms and conditions apply.
Summary 
Here at Storefriendly Singapore, we cater to all sorts of self-storage solutions beyond the more traditional type. Whether you have a collection that is in danger of cannibalising the rest of your house or a growing e-commerce store, we have a space for you. We have tailored spaces for small businesses too, ranging from just storage units to a combination work space. Such an option can provide a better work-life balance and keep your home free from clutter.
If you are a first time storage unit user, do note that we provide trolleys and ladders that are free for use at our storage facilities, and our shop is stocked with secure lock-boxes, pad locks and packing supplies you would need when preparing for your move-in into our 24/7 air-conditioned self storage facility. To rent a unit with us, fill up this form for a quote now!