Barbie Dolls: Storage Solutions to Keep Them in the Pink
When Barbie debuted in 1959, she wore a black and white swimsuit in Chevron print, had white-framed cat-eye sunglasses perched atop, and open-toe black heels at her feet. Her hair was coiffed into a ponytail, and her fringe, permed to perfection. Possibly the first to nail the #bombasticsideye before it even trended in 2023, Barbie wore that expression at the New York Toy Fair, waiting to be purchased at $3 per pop.
By 2009, a Barbie doll cost $14, proving detractors that she was here to stay. At 64 years old, Barbie is slaying with her own movie and a cult-following of 3 million followers on Instagram. The Diamond Barbie, currently the most expensive version, now retails at $302,500.
Barbie has withstood the age of time and has captured the hearts of generations with her forward-looking philosophies, timeless charm, and endless possibilities for imaginative play. If you are a Barbie collector or enthusiast, you would know how essential it is to keep these iconic dolls in pristine condition. Whether you're looking to store your cherished Barbie collection temporarily during a move or for the long term, self-storage can be the perfect solution.
Clean and Prepare Your Barbie Dolls
Before placing your Barbie dolls into self-storage, it's crucial to ensure they are clean and well-prepared for storage. Use a soft, damp cloth to gently wipe away dust or dirt from the doll's surface. Avoid harsh chemicals or water, which may damage the doll's delicate features or clothing. Allow the dolls to air dry thoroughly before proceeding.
Additionally, consider removing any accessories or clothing that could potentially cause damage during storage. Small items like jewelry, shoes, and bags should be stored separately in containers with small compartments to keep Barbie's accessories visible and organized.
Choose the Right Storage Containers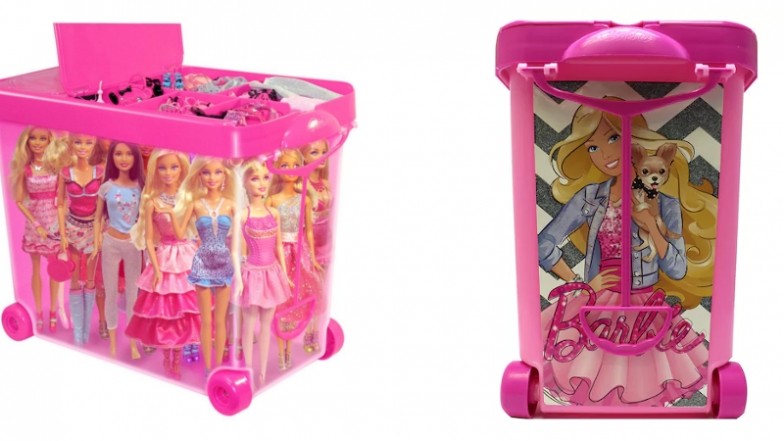 Selecting suitable storage containers is vital to protect your Barbie dolls from dust, pests, and potential damage. Opt for plastic containers with secure lids to shield your dolls from environmental factors. Containers taller than Barbie herself are ideal – in this way, she can be stored standing. It is not advisable to lay the dolls on each other as they might be squashed. Other materials to help Barbie 'stand' are these pocket-friendly plastic stands that can be purchased online. Avoid using cardboard boxes, as they attract pests and are more susceptible to moisture damage.
Properly Package Your Barbie Dolls
To ensure your Barbie dolls remain pristine, wrap each doll in acid-free tissue paper or clean, soft cotton cloth to prevent any color transfer or scratches during transportation and storage. Gently tie their hair back to avoid tangling and potential damage. You can use soft fabric scrunchies or hair ties to keep the hair neat and secure.
Consider Climate-Controlled Storage

Temperature and humidity fluctuations can be detrimental to the condition of your Barbie dolls. Self-storage facilities such as Storefriendly come with 24/7 air-conditioning, climate-controlled to provide a stable environment. Self-storage facilities aid in protecting your dolls from extreme heat, cold, or humidity, deterring mold growth or deterioration.
Arrange Barbie Dolls Carefully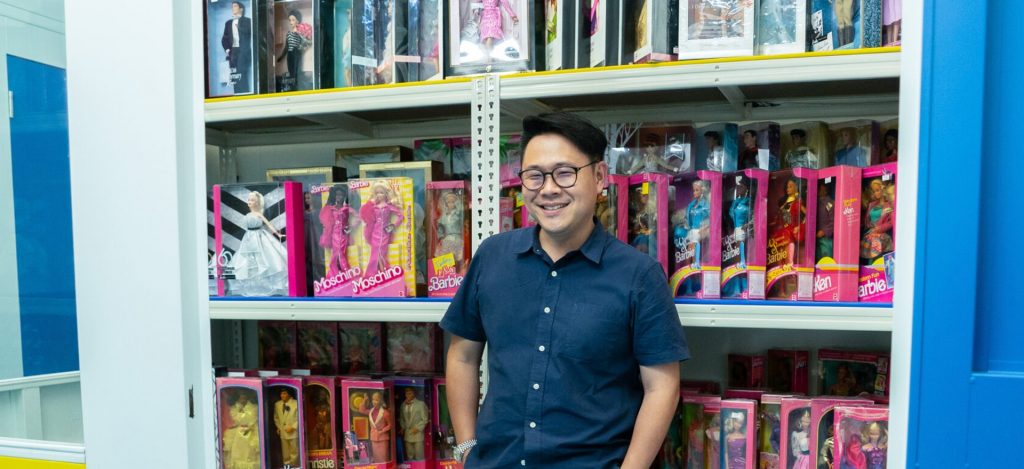 Jian, the world's second-largest Barbie doll collector, owner of an award-winning PR Agency, Distilleri, and Storefriendly ambassador, places a fraction of his 12,000-strong Barbie on the storage racks in his storage unit. Some of his doll accessories are also kept in tapeless Storefriendly boxes. You can head down to Storefriendly Paya Lebar to have a glance at his display unit. From ION Orchard to the Mint Museum of Toys, Jian is always on the go, displaying his dolls at iconic places in Singapore.
Regular Checkups and Maintenance
Even in self-storage, it's essential to periodically check on your Barbie dolls to ensure their condition remains optimal. Aim for quarterly inspections, during which you can clean the storage containers, check for any signs of pests or damage, and repackage the dolls if necessary.
If you would like to explore storing your Barbie dolls or any collectibles in a place where moths and rust cannot corrode, contact our Customer Relations team at Storefriendly or simply book your storage unit online.